Six Month Smiles
Adult orthodontics are becoming even more popular thanks to modern techniques that can straighten smiles more discreetly and in less time. Six Month Smiles® has taken the best aspects of braces and modified the treatment to give the very best solution to straightening teeth. It is a revolutionary combination of proven orthodontic techniques, modern materials, and innovative thought.
At Chew Magna Dental Practice, we offer free consultations with Jonathan McVeigh who is our qualified Six Month Smiles practitioner.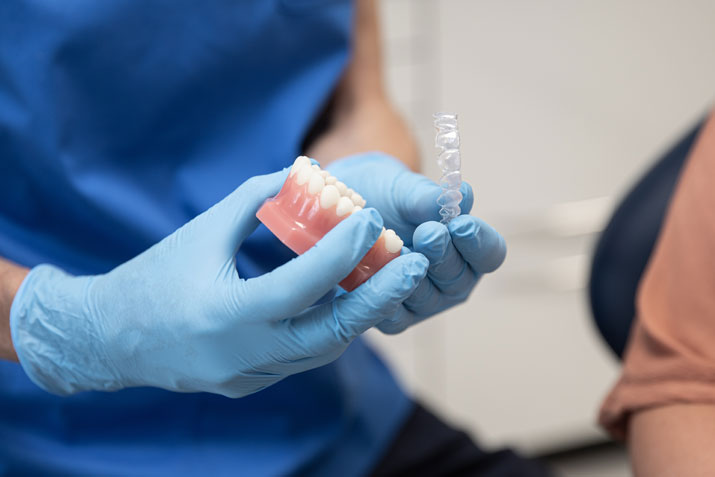 Why Six Month Smiles®?
Short treatment time
Many people are put off having braces because of the length of treatment. Traditional braces take around 18-24 months to fully complete the treatment. Six Month Smiles takes only six – hence the name.
Precise results
As with any type of fixed brace, Six Month Smiles moves teeth to the precision position using gradual movements. When the treatment has completed, your teeth will be beautifully straight.
Discreet
Six Month Smiles are designed with aesthetics in mind. They use clear brackets and specially-designed tooth-coloured wires in place of noticeable metal brackets and wires. You can smile comfortably knowing that your braces won't be the first thing people see.
What's involved in the treatment?
Before we start your treatment, we carry out a full health check to make sure your oral health is at a high enough standard. Teeth respond best to orthodontic treatment when the surrounding gums and bone are healthy.
We take impressions to gather measurements for your teeth. These impressions are used to make moulds which the laboratory uses to create your custom-made brackets and wires.
When we receive the brace, we invite you in for the fitting. During this appointment, we'll discuss how to keep your teeth and braces clean throughout your treatment.
Every five to six weeks, we'll need to see you for your adjustments. How many adjustments you'll need will depend on your case.
When the treatment has finished, we'll take a final set of impressions. These will be used to create your retainer. You'll need to wear the retainer for a period of time after the treatment to prevent your teeth from lapsing out of position. It will take a couple months for your teeth to stabilise.