Enjoy a whiter and younger smile with tooth whitening. At Chew Magna Dental Practice, we offer home whitening kits so you can carry out your treatment at your own pace. We use Opalescence and White Dental Beauty which both can achieve brilliant results.
How does whitening work?
The whitening system that we use includes a whitening agent that bleaches the teeth using carbamide peroxide as the active ingredient. Through a completely safe chemical reaction, the agent removes tough stains from the teeth, making them appear whiter and brighter.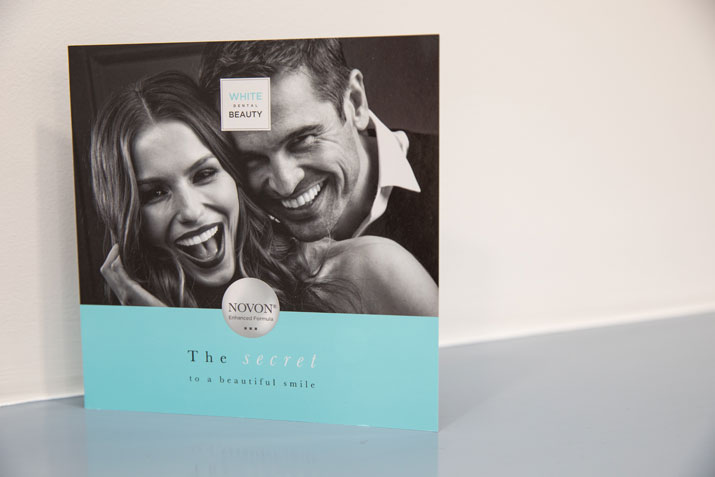 Why use home whitening?
More and more people are choosing to have home whitening as their choice of treatment. Home kits are custom-made to fit snugly around the teeth, allowing the whitening gel to evenly cover all surfaces of the teeth.
There is also reduced sensitivity as the process is gentler than in-surgery whitening. If you notice any discomfort, you can just stop. You are in complete control of the treatment.
Need to top up the treatment? You keep the mouth tray so you only need replacement gels which we sell at our practice.
What's involved in the treatment?
We first take impressions of your teeth. We use these to create custom whitening trays. Once these are ready, we invite you back to take you through what the treatment involves. We show how to use the gel and spread it evenly on the mouth tray for the best results.
You'll need to wear the trays at home for a specified length of time. We'll tell you how long to wear them. After a few days, you'll start to see the results. The treatment usually takes a couple of weeks. We'll see you when the treatment ends for a follow-up appointment to check on the results.
Please note, teeth whitening will only work on natural teeth and will not be effective on restorations such as crowns, veneers or dentures.
Other whitening treatments
We also offer Opalescence Go at our practice. This whitening product is a fast and affordable way to achieve a whiter smile. With no impressions or custom mouth trays needed, Opalescence Go can be purchased immediately after the first appointment at our practice.
To find out more about our treatments, why not get in touch?