Accidents can happen when passions are high on the pitch. Many knocked out teeth that we treat are a result of sports injuries. These can be prevented with mouth guards, especially custom-made guards.
Custom-made guards are made from a strong, yet pliable, material which cushions teeth against damage such as chips, cracks and tooth loss. They can also help protect the jaw and softer areas such as the lips, tongue and cheeks.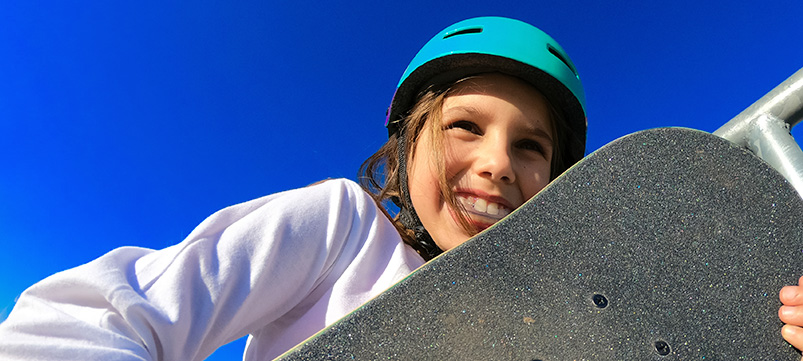 Why should you choose to have a custom mouth guard?
While you can buy mouth guards at a sports shop, these 'boil and bite' varieties still don't provide full protection which can be guaranteed from a custom-made guard.
Stronger and more durable
Boil and bite guards are thinner and made from a softer plastic. The machines that create custom-made guards work at a higher pressure and higher temperature, meaning the guards they produce can withstand greater force. They are made from a harder acrylic as they are already moulded to your child's impressions, so aren't needed to be made softer in order to mould to their teeth – as is the case with boil and bite guards.
Moulded perfectly to your teeth for a superior fit
When your child comes to our practice for their guard fitting, we will take impressions using the same system we use for creating restorations and orthodontic appliances. The impressions allow us to create the best fit for your child's guard. When you visit us to pick up the guard, we make sure that it fits perfectly and that there is minimal movement.
Why come to the dentist to have a mouth guard
Some mouth guard providers include a pack where you can make impressions at home and then send them off to their factory. While this may sound more convenient, it is better to have a dentist to take the impressions. Dentists take such impressions on a daily basis and as they are best suited to make sure that the impressions are as accurate as possible. Having even a slight misfit can
impact the integrity of the appliance – making it less secure and less comfortable.
Looking after the mouth guard
It's very important to keep the mouth guard safe and clean between uses. Your child should wash the mouth guard after every use, occasionally using cool soapy water to keep it clear of bacteria. Make sure that they never wash with warm or hot water as this could cause the material to soften and so lose its structure.
We will supply a case so your child can keep the mouth guard safe from damage. We also print your child's name on the mouth guard so it doesn't end up in the wrong child's PE kit!
We strongly suggest that for every routine dental appointment, you child bring the mouth guard with them so we can make sure the fit is still perfect.
You may find that as your child is still growing, the guard may start to become tighter. If your child is outgrowing their guard, they will need a new one that fits. A tight guard can seriously impact the teeth and gums (and will hurt!) so it is important that there is no rubbing.